Connecting your hotel to a powerful ecosystem.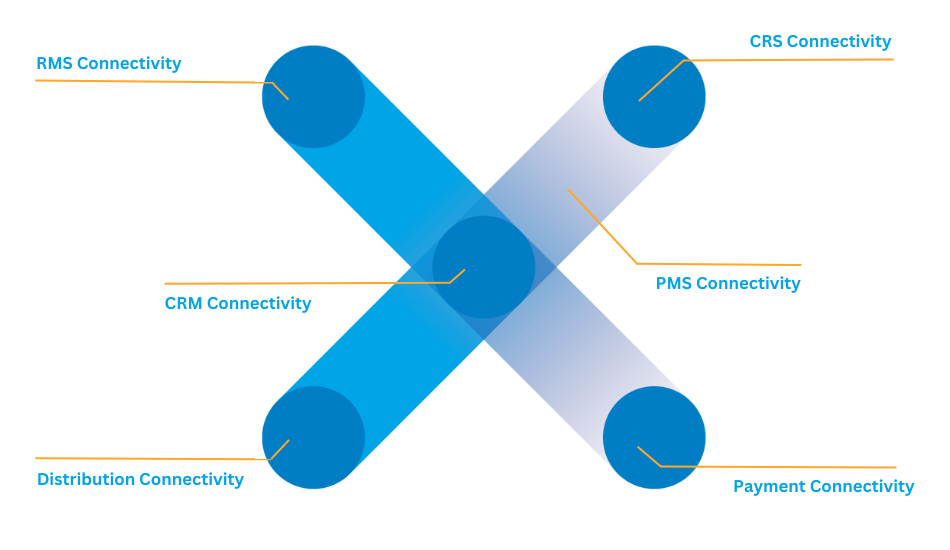 The PMS is the heart of your business, helping you organising, scheduling and performing your day-to-day operations and transactions in your property.

At ResNet we understand how important it is to have highly effective and reliable connectivity to your PMS. This is why we provide top-notch two-way connectivity with more than 150 PMS. Connecting your PMS, with a strong Channel Manager enables you to convert all your availability into bookings.

You can manage all of your availabilities from your PMS and avoid the risk of overbookings and guarantee rate parity across all channels.
Revenue Management System is a tool for optimising the hotel's pricing strategy and room occupancy.
ResNet platform is connected to the industry major RMS providers allowing dynamic data exchange between your RMS and your Channel Manager and/or your Booking Engine.
A guarantee for you to sell rooms at the right price, through the right channel.
DISTRIBUTION CONNECTIVITY
OTAs drive in average 73% of the online distribution of independent hotels, according to our latest research. They represent a huge opportunity for hoteliers to be booked by guests from all over the world. ResNet cloud platform allows you to be distributed by 300+ OTAs and Tour Operators, both global and local players.
Increase your reach and easily pilot your distribution on those channels via your Channel Manager.
Unlock unique payment methods on your Booking Engine. Our deep integration of Payment System Providers allows secured payment processing at the time of booking from your major OTA partners.
While ResNet provides a powerful one-stop shop CRS, we acknowledge you could be using a different platform, hence why we can connect most of the existing CRS of the market, even though they are our competitors!
Knowing your customers is a must in the hospitality industry. The more you know your guests, the better experience they get during their stay and the more eager they are to recommend your establishment and to come back.
ResNet connects hoteliers to major CRMs to ensure a seamless transfer from the booking data to your CRM.
I want to say that I have been incredibly impressed with the whole process. The integration, the documentation, the upcoming marketing, and the overall teamwork has made this project run incredibly smoothly for me.
Amanda Lee
Senior Delivery Manager
Connectivity Hub