METASEARCH MARKETING
Make sure your hotel's website appear on top of the Metasearch results

Metasearch has been the most reliable advertising channel to generate hotel bookings over the last few years. We make sure your hotel is rightly advertised on this channel. We connect your hotel's website rates to all the main Metasearch platforms so that OTAs no longer have a monopoly on your metasearch distribution strategy.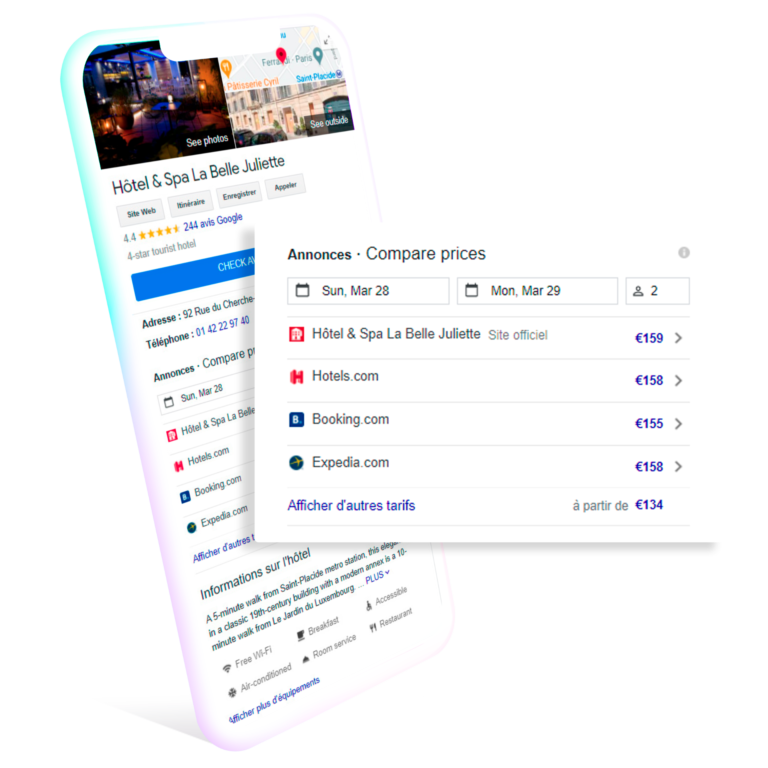 GET (MUCH) MORE DIRECT SALES
Hotel Metasearch has grown to become the most important advertising channel for hotels outpacing even AdWords. Thanks to ResNet Metasearch Marketing you will get more online visibility and increase your direct traffic and bookings. Your hotel is no longer distributed only by OTAs on metasearch engines.
CONNECT TO ALL MAJOR HOTEL METASEARCHES
We connect your Booking Engine to all major hotel Metasearch—Google Hotel Ads, Hotels Combined, Kayak, Skyscanner, Tripadvisor, Trivago, Wego—to display your direct rates and availabilities on their price comparison modules. Don't let OTAs get the traffic for your hotel, generate direct revenue with a much lower CPA (cost per acquisition) than OTAs, and reduce your dependency on OTAs.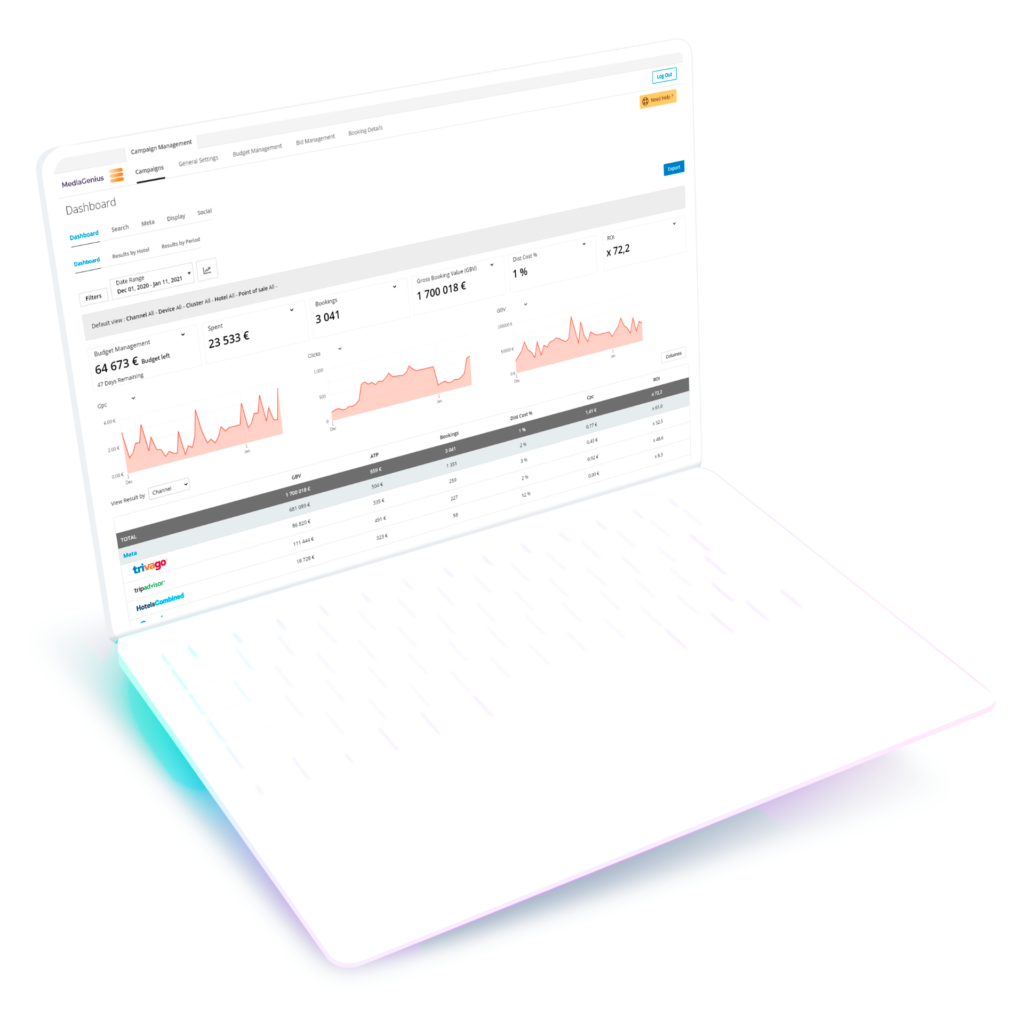 RELY ON AN EASY-TO-USE, EXHAUSTIVE PLATFORM
From setting up your budgets to managing your bids and monitoring results, we provide you with the best-in-class platform to manage and monitor your campaigns.
With MediaGenius, you can easily follow the evolution of income and bookings generated via Social Marketing, analyse your campaigns' performance, and fine-tune your strategy.
CHOOSE THE PACKAGE THAT SUITS YOU BEST
Increase your website's visibility, traffic, and conversion thanks to online advertising.
We offer various business models depending on your digital expertise and internal resources. Whether you're looking for a commission-based or an agency-style solution, or just for connectivity, we'll find the one that perfectly suits your needs!
WE CAN HANDLE EVERYTHING FOR YOU
Our expert team of search campaigns managers is specialised in Hospitality. They can handle your whole Digital Marketing strategy on your behalf if you don't have the internal resources to do so.
ADVERTISE MORE, ONLY PAY FOR WHAT CONVERTS
Widely distribute your hotel on many digital media such as Metasearch, Display, Social Media, and Search. The cost per acquisition is only paid once, so you can leverage all possible channels.
With MediaGenius you can manage and monitor all your Digital Media campaigns from a one-stop-shop.
Metasearch Marketing